Paula R. Moore
Founder and Director of The interPLAY Orchestra
(301) 229-0829
paulaRmoore@comcast.net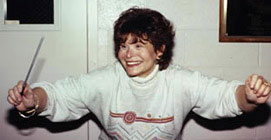 The interPLAY Orchestra was founded over 25 years ago by Paula R. Moore. Paula was named a Washingtonian of the Year in 1996.
A passionate advocate on behalf of people with disabilities, Paula R. Moore first developed a national nonprofit organization that gave children with mental retardation and non-impaired high school students the opportunity to co-publish school newspapers, written and color photographed by the young people themselves. This project was chosen to join the first international Very Special Arts Festival held in Washington that led the local newspaper staff to both the Kennedy Center and The White House, writing and shooting over 500 photos for a festival newspaper sent to VSA projects globally.
A performance musician herself, Paula discovered through research that everyone is born with the gene to make music; so, all of her personal expertise as a professional writer and director, designer, and communications and public relations consultant was channeled into creating a musical nonprofit project for adults with and without disabilities.
She served on the Montgomery County Maryland Commission for People with Disabilities, spoke on panels, and initiated an experimental participatory music experience class using professional instruments at the former Great Oaks Center, a Maryland State institution now closed, for adults with severe and profound mental and physical disabilities. The success of the original project led to the formation of The interPLAY Orchestra for cognitively disabled adults who are generally living and working independently and the sizeable group of musicians you see today. The interPLAY Orchestra performed on Washington area main stages for 16 years before becoming a Strathmore education partner.
Paula Moore's work has awarded her many honors throughout the years, as well as invitations to start similar programs in other countries. The interPLAY Orchestra, with VisualEdge Productions, is currently in the process of producing a one-hour documentary to be shown throughout the U.S. and beyond.
Paul Bangser
Associate Conductor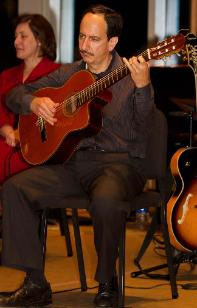 Paul Bangser, Associate Conductor, plays the guitar at the October 17, 2011 concert
(Photo M. Drumheller)
Susan Park
Orchestra Manager
Rose Kobylinski
Producer
Coleman O'Donoghue
Percussion Consultant
Patrice Curtis
Music Director, Choral
Kristen Uleck
Orchestra Captain
Sandy Helm
Personal Performance Coordinator
Ken Silverstein
Managing Director and Business Development
(301) 570-6664
kslvrstein@aol.com
Board of Directors
Alan Lovell, Chairperson
Gyr Turshen, Vice Chairperson
Ginger Webber, Treasurer
Nina Helwig
JP Illarramendi
Gina Latcheran
Karen Lipsey
Paula R. Moore
Susan Park
Advisory Board
Norman Scribner (deceased)
Fred Begun (deceased)
Evelyn Glennie
Coleman O'Donoghue
Michael F. Toperzer
N. Thomas Pedersen
David Eisner
Gary Bloom
Brenda Z. Rosenbaum
Dr. Billy Taylor (deceased)
Printing Partner
DigiPrint Connection, Silver Spring, Maryland