Paula R. Moore
Founder and Director of The interPLAY Orchestra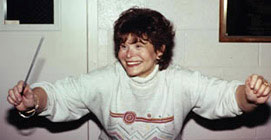 The interPLAY Orchestra was founded over 30 years ago by Paula R. Moore. Paula was named a Washingtonian of the Year in 1996.
A passionate advocate on behalf of people with disabilities, Paula R. Moore first developed a national nonprofit organization that gave children with mental retardation and non-impaired high school students the opportunity to co-publish school newspapers, written and color photographed by the young people themselves. This project was chosen to join the first international Very Special Arts Festival held in Washington that led the local newspaper staff to both the Kennedy Center and The White House, writing and shooting over 500 photos for a festival newspaper sent to VSA projects globally.
A performance musician herself, Paula discovered through research that everyone is born with the gene to make music; so, all of her personal expertise as a professional writer and director, designer, and communications and public relations consultant was channeled into creating a musical nonprofit project for adults with and without disabilities.
She served on the Montgomery County Maryland Commission for People with Disabilities, spoke on panels, and initiated an experimental participatory music experience class using professional instruments at the former Great Oaks Center, a Maryland State institution now closed, for adults with severe and profound mental and physical disabilities. The success of the original project led to the formation of The interPLAY Orchestra for cognitively disabled adults who are generally living and working independently and the sizeable group of musicians you see today. The interPLAY Orchestra performed on Washington area main stages for 16 years before becoming a Strathmore education partner.
Paula Moore's work has awarded her many honors throughout the years, as well as invitations to start similar programs in other countries. The interPLAY Orchestra, with VisualEdge Productions, is currently in the process of producing a one-hour documentary to be shown throughout the U.S. and beyond.
Steve Mutty
Interim Executive Director
(202) 669-8340
steve@interplayorchestra.org
Steve comes to interPLAY Orchestra with extensive executive experience with non-profit organizations throughout the DMV area.  He has a track record of leading organizations through transition periods, expanding networks and partnerships, while diversifying and growing revenues.  Steve's interest in persons with disabilities is evident from his volunteer experience starting the Northern Virgina chapter of Best Buddies. Inc.  As well, he has an appreciation for music.
Steve plans on improving and expanding interPLAY's musical programs for individuals with disabilities, as well as recruiting new orchestra members to participate in both in-person and virtual rehearsals. Your financial support made it possible for interPLAY to continue providing our orchestra members with hybrid rehearsals during the pandemic.  We also produced amazing and inspiring music videos and concerts at The Music Center at Strathmore.  With your continued support and Steve's administrative and development expertise, interPLAY will be able to continue its mission of providing musical experiences and performance opportunities for adults with disabilities involving professional and amateur musicians.
Steve is eager to meet with you to discuss interPLAY's ongoing musical programs for individuals with disabilities, allowing them to showcase their abilities.  Steve will reach out to you to introduce himself and to ensure you have any information needed from interPLAY.  We continues to be grateful, not only for your financial support, but also for your recognition of the importance of our mission and the benefits our orchestra members receive from their experiences at interPLAY.
Paul Bangser
Music Director and Associate Conductor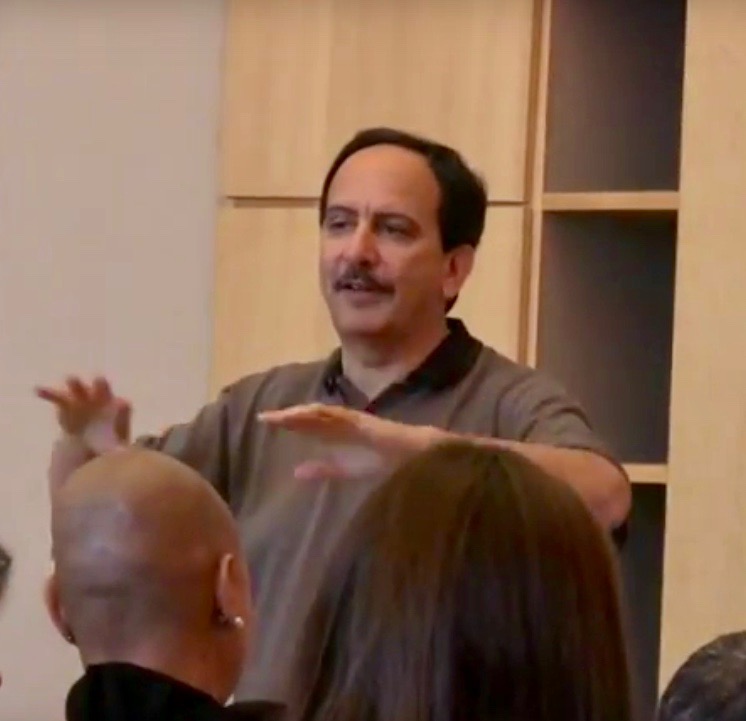 Jazz guitarist Paul Bangser has been Interplay Orchestra's Music Director and Associate Conductor since 2010. He arranges the music and conducts the orchestra in year-round rehearsals and concerts at Strathmore Music Center.
An active music teacher and performer, Paul is the former Director of Guitar Studies at the Duke Ellington School of the Arts, DC's only arts-dedicated high school, where he taught guitar and music theory and led the school's guitar ensemble. He has operated his own private teaching studio in Bethesda since 2006.
Paul has been performing with and leading jazz bands over the course of several decades and he has a versatile record of performances on jazz guitar and other guitar styles. He has arranged for and led his own jazz quintet on the Kennedy Center's Millennium Stage, performed for a sitting Supreme Court Justice (at the Supreme Court), and performed with jazz and latin jazz groups at local clubs, coffeehouses and outdoor festivals over the years. Paul has performed regularly with jazz vocalists including Linda Cordray (John Eaton) and has also held the guitar chair for local theater productions.
Paul has also taken a leadership role in jazz education, having been selected in 2010 to the board of directors of the Jazz Education Network (JEN), the premier national organization for advancing jazz education and performance. He served on the JEN board from 2010 to 2014.
Paul started playing music at age six and the guitar at 12, later studying with faculty at the Berklee College of Music as well as with jazz guitarist and current Peabody Conservatory faculty member Paul Bollenback.
Susan Park
Orchestra Manager
Coleman O'Donoghue
Percussion Consultant
Patrice Curtis
Music Director, Choral
Sandy Helm
Personal Performance Coordinator
Board of Directors
Alan Lovell, Chairperson
Gyr Turshen, Vice Chairperson
Karen Lipsey, Treasurer
Joe Yang, Secretary
Nina Helwig
JP Illarramendi
Gina Latcheran
Paula R. Moore
Susan Park
Jerry Brown
Darrell Capwell
Advisory Board
Norman Scribner (deceased)
Fred Begun (deceased)
Evelyn Glennie
Coleman O'Donoghue
Michael F. Toperzer
N. Thomas Pedersen
David Eisner
Gary Bloom
Brenda Z. Rosenbaum
Dr. Billy Taylor (deceased)
Printing Partner
DigiPrint Connection, Silver Spring, Maryland